A Photo captures an Image - a - painting reveals the soul
Pet Portraits
Tips on photographing your pet.
Take a clear close up head and shoulder shot so that I can see detail and fur colour.
Take the photo at your pets level don't have them looking up at you unless that is how you want your portrait to appear.Get someone to hold them or get down to their level.
Natural outdoor light is best bright shade or hazy sun is ideal, also have the sun at the back of you,no red eye indoor flash please.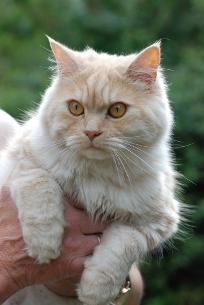 Take a number of photo's so I can use for my painting of your pet.
Black and white photo's are not acceptable unless you require your picture in monochrome.
E.mail or post a good selection of photographs of your pet, preferably close up head and shoulder.
Please mark one photograph with your preferred pose.
All photo's received by post will be returned on completion of my work.
Please be aware that if your photographs have been taken professionally I require the written permission of the copyright holder(usually the photographer) before any work begins.
General terms and conditions.
Each commision is priced separately. E.mail me for details.
Please note a non refundable deposite of 30% is required at the time of confirming your order and before any work commences.
Full payment is required before the portrait is delivered.
Contact me please fill in form